Briefing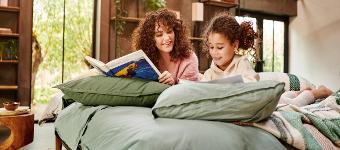 Wij zijn M line. Wij staan voor iedereen die alles uit de dag haalt. Voor iedereen die bewust en onbewust topprestaties van zichzelf vraagt. Dag in dag uit. Een leven lang.
Met 20 enthousiaste collega's bedienen we de Europese slaapmarkt via Beter Bed winkels, beddenspeciaalzaken en onze webshop. Alle M line producten worden met de grootste zorg gemaakt en zijn kenmerkend door hun drukverlagende, ventilerende en warmte-regulerende vermogen. Niet voor niets slaapt topsportend Nederland op M line. M line draagt bewezen bij aan een sneller herstel van lichaam en geest. Willen we niet allemaal het maximale uit de nacht halen om overdag optimaal te kunnen presteren? Topprestaties komen immers niet vanzelf.
Green Motion matras
Droom jij ook van een duurzame wereld? Op de Green Motion van M line kun je met een gerust hart dromen over morgen. Een volledig circulair matras met ongekend ligcomfort. Het matras is gemaakt van recyclebare materialen waarmee we de grondstoffenschaarste tegengaan. Zonder in te hoeven leveren op comfort en kwaliteit! Die materialen die we gebruiken, hebben unieke eigenschappen die zich volledig aanpassen naar jouw lichaam. Kortom, het matras kenmerkt zich door goede ondersteuning, uitmuntende ventilatie en een goede drukverdeling zoals je van M line gewend bent. De Green Motion heeft een verkoopwaarde van €2.600,- en is beschikbaar in verschillende formaten. Bekijk voor meer productinformatie de brochure.
Campaign application
Do you want to join this campaign? Log in or sign up and apply straight away!