Briefing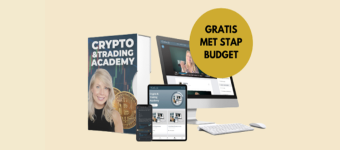 De Crypto en Trading Academy is een totaalpakket waarbij je alle handvatten krijgt om bitcoin, cryptocurrencies, technische analyse en handel te begrijpen in de vorm van een tweetal cursussen en de MoneyTalks Community. De afgelopen jaren hebben we meer dan 25.000 cursisten mogen ontvangen over alles te leren over bitcoin, cryptocurrencies en traden. Profiteer van de meest verkochte cursussen van Nederland en België en de 60+ jaar crypto- en beleggingservaring van experts en van Madelon Vos zelf (sinds 2013).
Volg de Bitcoin en Technische Analyse Academy (t.w.v. €999) GRATIS met het STAP-budget
Sinds dit jaar heeft deze cursus het kwaliteitskeurmerk van de NRTO ontvangen (De Nederlandse Raad voor Training en Opleidingen). Dit keurmerk staat voor kwaliteit en professionaliteit én maakt het mogelijk om de online cursus en de Money Talks Community af te nemen middels de STAP-subsidie. Hiermee volg je dus geheel gratis onze trainingen en krijg je tegelijkertijd onze ondersteuning.
Deze criteria gelden er voor het STAP-budget:
Je bent een EU-burger of de partner van een EU-burger;
Je bent tussen de 18 en 67 jaar;
Je hebt in de afgelopen 27 maanden minimaal 6 maanden in Nederland hebt gewerkt, gewoond of een uitkering ontvangen;
Je gebruikt het STAP-budget om jezelf verder te ontwikkelen en je positie op de arbeidsmarkt te versterken.
Campaign application
Do you want to join this campaign? Log in or sign up and apply straight away!