Briefing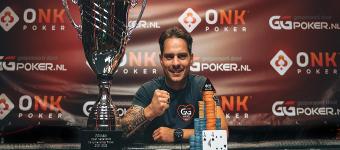 Jaarlijks worden er 300 pokertoernooien georganiseerd door het Open Nederlands Kampioenschap Poker. Deze pokerkampioenschappen worden georganiseerd in samenwerking met horecagelegen door heel Nederland of vinden online plaats!
Pokeren voor prijzengeld is (behalve in Holland Casino) verboden. Het Open Nederlands Kampioenschap Poker is daarom speciaal in het leven geroepen voor mensen die het leuk vinden om te pokeren, maar geen honderden euro's uit willen geven aan hun eerste echte pokerervaring. Je kunt voor slechts €7,50 al meedoen aan het ONK Poker en jezelf proberen te kwalificeren voor de grote landelijke finale. Wie weet word jij wel de nieuwe Pokerkampioen van Nederland!
De pokertoernooien van het ONK Poker zijn vooral voor beginnende en recreatieve pokerspelers!
Word jij de nieuwe Pokerkampioen van Nederland? Ga jij all-in? Of bluf jij je zo door naar de volgende ronde? Doe mee met Open Nederlands kampioenschap Poker en kwalificeer jezelf voor de grote landelijke finale.
Let op: je kunt dus geen prijzengeld willen. Maar wel de titel en de roem.
Campaign application
Do you want to join this campaign? Log in or sign up and apply straight away!