Briefing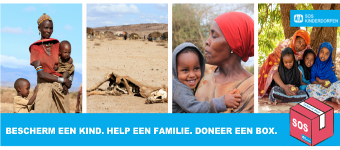 Oorlog, droogte, lockdowns, inflatie en torenhoge voedselprijzen. Afrika wordt getroffen door de ene na de andere ramp. En dat raakt vooral kinderen. Om kwetsbare kinderen te beschermen helpt SOS Kinderdorpen juist hun families. Wij kijken wat een familie nodig heeft: voedsel, zorg, onderwijs, werk of financiële steun.
Wij komen in actie voor families in Afrika en hebben jouw hulp nodig! Vanaf 17 oktober voert SOS campagne en is onze commercial op te horen en te zien op Radio en TV. Geloof jij ook in de kracht van familie? Bescherm een kind. Help een familie. Doneer een box.
Wie doen er mee?
Samen met een onze vaste SOS-ambassadeurs, BN'ers en andere influencers, komen we in actie om zoveel mogelijk SOS familieboxen te verzamelen. De campagne loopt vanaf 17 oktober en is terug te vinden op tv, social, radio en in dagbladen en tijdschriften. Jouw rol als impactvolle contentmaker is heel waardevol voor ons.
Wat zit er in een SOS Familiebox?
Een SOS Familiebox staat symbool voor de op maat gemaakte hulp die we kwetsbare families geven. SOS Kinderdorpen bekijkt wat er nodig is: voedsel, zorg, onderwijs, werk of financiële steun. Iedere donatie helpt en wordt ingezet waar de nood het hoogst is.