Briefing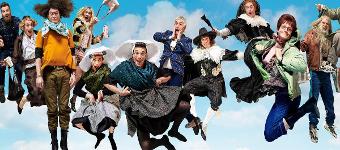 Na hun tv-publiek zestien goed bekeken seizoenen lang een hilarische karikatuur van Nederland te hebben voorgeschoteld, trekken de mannen van Koefnoen nu met bekende én nieuwe persiflages, types en imitaties het theater in: up-to-date en fonkelnieuw materiaal vol vertrouwde types als happy single Ipie, stijl en klasse-icoon Nesrin, recreatief gebruiker slash sekswerker Annet en het onverwoestbare ANWB-koppel Okko en Eus.
In rake, herkenbare en confronterende sketches, songs en scènes storten Owen Schumacher, Jeremy Baker en Paul Groot zich, samen met Kiki van Deursen en Sanne Franssen in een scherpe, wervelende satirische theaterrevue over veranderen, vernieuwen of vastroesten.
Campaign application
Do you want to join this campaign? Log in or sign up and apply straight away!