Briefing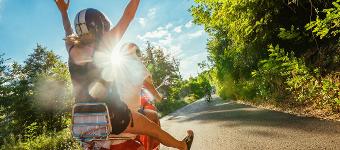 The Vespa Trip is een meerdaagse roadtrip waarbij je op authentieke Vespa's de allermooiste Italiaanse dorpjes passeert via de meest adembenemende kronkelpaadjes. Cruise op de mooiste brommers ter wereld door het Italiaanse achterland, ver weg van het geëffende en platgelopen toeristische pad. Een week lang rijd je langs onontdekte Italiaanse pareltjes, gezellige barretjes en restaurants van traditionele Italiaanse families. We geven jullie aan het begin van de week een uitgebreid roadbook mee waar de mooiste wegen en adresjes in staan.
Je kunt de Vespa Trip helemaal zelfstandig doen met GPS en Roadbook bij de hand die we je bij het vertrek meegeven maar je kunt ook onze gids volgen. De bagage wordt voor iedereen vervoerd door onze volgwagen. Er is keuze uit 3 bestemmingen: Toscane, Sicilie en de Amalfitaanse kust.
Wij zijn expliciet op zoek naar travelblogs die een enthousiasmerend artikel kunnen schrijven en hopelijk je lezers kunt overtuigen een trip te boeken bij The Vespa Trip.
Let op: Je mag alleen pitchen als je de LinkPizza plug-in hebt geïnstalleerd of gebruik maakt van het script om de views en reads te kunnen meten. Anders kunnen wij je achteraf niet uitbetalen.
Link

Anchor text / Link title

The Vespa Trip
Conditions
Other Conditions
Je hebt de LinkPizza Plug-in geïnstalleerd of maakt gebruik van het script
Je hebt een Travelblog
De URL is nader te balen ivm een speciale landingspagina
Je deelt het artikel op social media en bij voorkeur ook in een Insta story
Je doelgroep is tussen de 20-40 jaar
Je plaatst minimaal 1 afbeelding en 2 links
Zorg voor een realistische verwachting in het aantal views
Channels
Wanted Categories

Campaign closes

6 months ago

Submitted before date

6 months ago