Briefing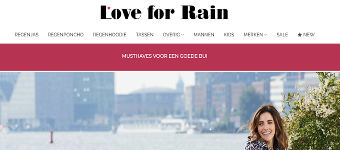 Het idee achter Love for Rain is ontstaan in 2011 na een bezoek aan één van de vele festivals die Nederland kent. Na een regenachtige dag in de blubber te hebben staan dansen, gingen we compleet natgeregend en onder de modder naar huis. Het viel ons op dat het haast niet mogelijk was om er in de regen, hip en trendy uit te zien. Toen dachten wij, dat kan beter! Laten we niet van de regen in de drup geraken, maar laten we uit deze ervaring een les trekken. En daarin lag de creatie van Love for Rain. Voor degenen die zich niet willen laten weerhouden door de regen en ook dan trendy en hip willen zijn introduceren wij Love for Rain. Of je nu naar een festival gaat, weer en wind trotseert op de fiets of je hond moet uitlaten in hondenweer. Voor elk moment dat het regent, wat nogal vaak voorkomt in ons prachtige kikker landje, kun je bij ons terecht. Wij doen ons uiterste best om unieke producten te vinden en daarmee onze klanten te laten stralen. Neem een kijkje in onze online winkel en bekijk ons prachtige aanbod. Met zoveel leuke artikelen wordt een regenachtige dag bijna zonnig.
Wij zoeken publishers en influencers voor het uitbreiden van onze naamsbekendheid. Pitch als je enthousiast bent over onze webshop en een authentiek relevant artikel kan schrijven.
Vermeld in je pitch de URL van een vergelijkbaar bestaand artikel op je website.