Briefing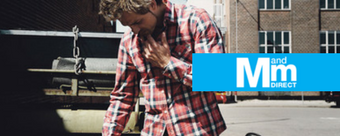 We are MandM Direct and we are looking for publishers and influencers to write about our Jack & Jones collection on our webshop! We are on sale 365 days a year and always offer big brands & low prices. Review our website and browse our extensive Jack & Jones collection for man. We are looking for traffic and sales. Is this something you could generate for us?? Please pitch and we will be in touch! The benefits for ordering with MandM Direct:
Always up to 75% off
Latest collection
Quick delivery
Great customer service
Write a positive story about either one of our Jack & Jones products, online shopping for man or mention us in a sales-blog. It's fashion, so be creative. Important is that you write about the benefits of ordering with MandM and why it's so great to have the Jack & Jones collection with 75% off.
Link

Anchor text / Link title

MandM Direct Jack & Jones

Conditions

Write a story about either one of our Jack & Jones products, online shopping for man or mention us in a sales-blog. It's fashion, so be creative. Important is that you write about the benefits of ordering with us and why it's so great to have the Jack & Jones collection with 75% off.

Talk about MandM Direct and Jack & Jones in a positive light - Article should be in DUTCH!
Link our Jack & Jones shop page - Use min. 1 and max 2 of the attached images
Always refer to our brand as MandM Direct
Don't mention any competitors in your blogpost
Sharing on social media is very much appreciated
Use mandmdirect.nl

Media
Details Post
Product

Post

Compensation

Fixed amount

Valid until

11 months ago

Submitted before date

10 months ago

Wanted Categories

Family & Parenting
Shopping
Beauty & Fashion