Briefing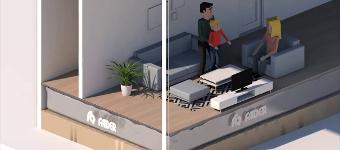 Onze woningen worden steeds duurzamer. Een belangrijke reden daarvoor is dat we onze huizen steeds minder met gas gaan verwarmen. Er worden steeds meer alternatieve methoden gebruikt; denk bijvoorbeeld aan warmtepompen of een warmtenet. Het streven is om vanaf 2021 geen nieuwe CV-ketels meer te plaatsen. Het kabinet wil dat op den duur geen enkele woning meer wordt verwarmd met gas.
Om de nieuwe verwarmingstechnieken effectief te kunnen laten renderen, is een goede vloerisolatie noodzakelijk. Dat kan bijvoorbeeld door je huidige houten vloer te vervangen door een schuimbetonvloer. Faber Comfortvloer levert deze vloeren.
Om onze vloeren en website te promoten zijn wij op zoek naar influencers die een inhoudelijk goed en authentiek artikel willen schrijven over:
Huisisolatie
Woningen zonder gas
Vloerrenovatie
Schuimbeton
Houten vloer vervangen door beton
Bekijk hier een video over wonen zonder aardgas.
Anker teksten:
houten vloer vervangen door beton
schuimbeton
renovatievloer
Link

Anchor text / Link title

houten vloer vervangen door beton

Conditions

Geschatte views minimaal: 1000
Domain Authority van minimaal: 12
LinkPizza script geïnstalleerd of Google Analytics gekoppeld
Permanente plaatsing
Minimaal 1 afbeelding
Ten minste 350 woorden
Ankertekst in nader overleg



Apply to join this campaign
Do you want to join this campaign? Log in or sign up and apply straight away!
Details Post
Product

Post

Compensation

Fixed amount

Valid until

1 month from now

Wanted Categories

Business
Hobbies & Interest
Home & Garden
Law,Government & politics
News
Personal Finance
Real Estate
Science
Society
Technology & Computing