Briefing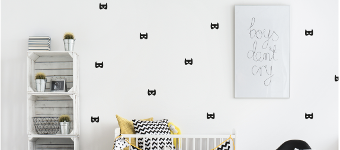 Een gave kinderkamer maak je in een handomdraai. Door ons grote assortiment muurstickers zorg je ervoor dat je die ene saaie muur een flinke upgrade geeft of door een gepersonaliseerde muursticker creëer je een echte eyecatcher in de slaapkamer van de kleine.
Bent u op zoek naar goedkope muurstickers van hoge kwaliteit voor een kinderkamer? Meermetstickers.nl heeft een uitgebreid assortiment muurstickers en interieurstickers in allerlei kleuren en maten. Kwaliteit en service staan bij ons voorop zodat u jaren plezier heeft van uw muursticker. Wij maken uitsluitend gebruik van professionele materialen voor het allerbeste eindresultaat.
Graag brengen wij onze webshop wat meer onder de aandacht en daarvoor maken wij graag gebruik van influencers / bloggers die een goed artikel over onze producten en webshop kunnen schrijven. In dit geval gaat het om een product review. Afbeeldingen kunnen wij zelf aanleveren (in nader overleg te bepalen welke het zal zijn).
Je ontvangt hiervoor kosteloos een muursticker uit onze webshop. Je mag zelf kiezen om welke kinder/babykamer muursticker het gaat (idem voor kleur en afmeting) en bent niet gebonden aan de door ons opgegeven €30,-. Daarnaast kun je pitchen met een Fixed Fee tot €20,-.
Link

Anchor text / Link title

Meermetstickers.nl
Conditions
Other Conditions
Domain Authority van minimaal: 20
Permanente plaatsing
Minimaal 1 afbeelding
Ten minste 400 woorden
Naast de opgegeven anchortekst en link, plaats je ook een link naar de productpagina van het product dat je gekozen hebt onder de anchor 'naam product'
Channels
Wanted Categories

Family & Parenting
Home & Garden
Beauty & Fashion

Campaign closes

2 months from now

Submitted before date

2 months from now
Apply to join this campaign
Do you want to join this campaign? Log in or sign up and apply straight away!