Briefing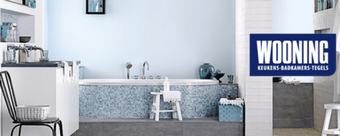 Voor Wooning ben ik op zoek naar enthousiaste bloggers die een leuk stukje kunnen schrijven over een badkamer. Of het nu gaat over je droom badkamer, over dat de badkamer je favoriete plekje in huis of een andere leuke met een badkamer: be my guest! Ik sta open voor alle ideeën
Let op: Elke maand gaan wij een aantal samenwerkingen aan, als je niet direct een reactie ontvangt betekent dat niet dat we niet geïnteresseerd zijn. Houdt er echter wel rekening mee dat het dus even kan duren voor wij je pitch keuren.
Link

Anchor text / Link title

Iets met 'badkamer'
Conditions
Common conditions
Shared through social media
The article is a permanent placement
The article should have at least 300 words
Other Conditions
Channels
Wanted Categories

Campaign closes

in 2 months

Submitted before date

in 2 months
Apply to join this campaign
Do you want to join this campaign? Log in or sign up and apply straight away!