Briefing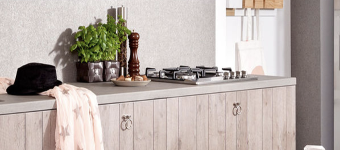 Een nieuwe keuken is vaak geen impulsaankoop. Mensen laten zich graag inspireren door mooie afbeeldingen, sfeerimpressies, tips en gebruikerservaringen. Vervolgens is het belangrijk dat de keuken bij jou als persoon en de rest van je inrichting past. Een keuken ontwerpen die helemaal past bij jouw levensstijl, daar draait het om bij Keukenmaxx. Wij zien het als een belangrijke taak om je te inspireren. Je kunt bij Keukenmaxx terecht voor alle topmerken in keukens en apparatuur. Welke stijl ook, samen realiseren wij de keuken die bij jouw interieur past. Laat je inspireren door alles wat Keukenmaxx u te bieden heeft. Met vier grote collecties van bekende keukenmerken hebben wij een passende keuken voor iedere stijl.
Voor Keukenmaxx zijn we op zoek naar artikelen over landelijke keukens. Het moet een natuurlijk geschreven artikel zijn met een link die uitnodigt om door te klikken. Dit bereik je vaak door het woord 'deze' voor de linktekst te plaatsen.
Let op: Deze campagne is doorlopend. Elke maand worden er 2 a 3 nieuwe samenwerkingen aangegaan. Het kan dus even duren voordat je pitch beoordeeld wordt.
Link

Anchor text / Link title

landelijke keukens
Conditions
Common conditions
The article is a permanent placement
The article should have at least 300 words
Shared through social media
Other Conditions
Plaats naast de link naar Keukenmaxx nog een andere externe link (geen concurrent en ook geen commerciële link)
Channels
Wanted Categories

Home & Garden
Food & Drink
Family & Parenting

Campaign closes

in one day

Submitted before date

in one week
Apply to join this campaign
Do you want to join this campaign? Log in or sign up and apply straight away!