Briefing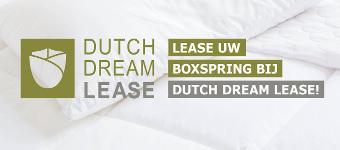 Mensen willen graag een goed bed van goede kwaliteit maar willen niet in een keer een groot bedrag uitgeven.
Wij bieden daarom een oplossing namelijk om een splinternieuwe boxspring te leasen (geen BKR registratie). Op onze website kunt u een boxspring samenstellen met o.a. keuze uit boxspringmaat, hoofdbord, stof, poten en matras. Zodra de order is geplaatst nemen wij contact op en bieden wij de mogelijkheid om langs te komen in een van onze winkels (niet verplicht wel handig). Wij kunnen dan advies geven welke matras het beste bij u past door te kijken hoe u op een matras ligt. Elk lichaam is namelijk uniek. Al onze boxsprings maken we zelf in onze eigen fabriek in de groene polders naast de geiten en de schapen. Kortom het is een echt handgemaakt Hollands product van eigen bodem.
Daarnaast bieden wij ook geheel gratis de "Keep me posted" service aan. Dat houdt in dat we u op de hoogte houden d.m.v. foto's of filmpjes via WhatsApp wat de status is van uw boxspring.
Graag zien wij een of meer van de volgende punten terug in je artikel:
Dat een goede boxspring betaalbaar is in 4 prijsklassen.
Makkelijk samen te stellen en online te bestellen
Dat we winkels hebben om (vrijblijvend) langs te komen.
Dat het een Hollands handgemaakt product is.
We servicegericht zijn, o.a., gratis bezorgd en gemonteerd, matrasadvies en de "Keep me posted" service.
Foto's van de boxsprings en foto's van de "Keep me posted" service zijn leverbaar. Suggesties voor een andere benaming voor "Keep me posted" service zijn ook welkom
Link

Anchor text / Link title

https://www.dutchdreamlease.nl
Conditions
Common conditions
The article should have at least 300 words
The article is a permanent placement
Shared through social media
Use at least one image
Channels
Wanted Categories

Target audience age

35 till 44
45 till 54
25 till 34

Campaign closes

7 months ago

Submitted before date

7 months ago