Briefing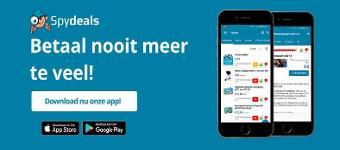 SpyDeals is een community pagina voor aanbiedingen en kortingscodes met meer dan 60.000 facebook-fans. Gebruikers delen, bespreken en houden elkaar op de hoogte van de beste beste deals en eventuele prijsfouten bij webshops.
Sinds kort is er ook een app beschikbaar, met deze app is het nog makkelijker om op de hoogte te blijven van de deals. Zo is het mogelijk om specifieke deal-alerts in te stellen en kun je via de app makkelijk deals delen die je zelf gevonden hebt. Op deze deals kunnen leden een score achterlaten, zodat wij alleen echt goede deals promoten en geen marketing blah-blah.
SpyDeals is er namelijk voor de gebruikers, dit dient duidelijk in je post naar voren te komen.
Ben jij een bloggers, influencer of vlogger die in een bericht onze app wil promoten en een link naar onze homepagina willen plaatsen? Dan ontvangen we graag je pitch en voorstel hoe je onze app/pagina zou willen promoten en wellicht dat we dan op korte termijn een langdurige samenwerking aan kunnen gaan
De link naar de apps zijn:
- Google play >> https://play.google.com/store/apps/details?id=com.spydeals.mobile
- Apple Appstore >> https://itunes.apple.com/app/spydeals-altijd-de-beste-deals/id1271937769
en onze webpagina is hier te vinden >> http://www.spydeals.nl
Let op: we nemen ongeveer 2 à 3 voorstellen per maand aan.
Link

Anchor text / Link title

SpyDeals app
Conditions
Common conditions
The article is a permanent placement
Contain 2 links
Other Conditions
Minimaal 2 interne links in het nieuwe artikel dat je gaat schrijven
Minimaal 3 interne links NAAR het nieuwe artikel vanuit enkele oude blog posts
Dat jouw website een TrustFlow (TF) heeft van 15 of hoger (check zelf hier)
Minimaal 1 relevante foto
Channels
Wanted Categories

Personal Finance
Food & Drink
Beauty & Fashion
Shopping
Travel
Hobbies & Interest
Home & Garden
Health & Fitness

Target audience age

55 till 64
18 till 24
35 till 44
25 till 34
65+
45 till 54

Campaign closes

within 2 weeks

Submitted before date

within 3 weeks
Apply to join this campaign
Do you want to join this campaign? Log in or sign up and apply straight away!