Briefing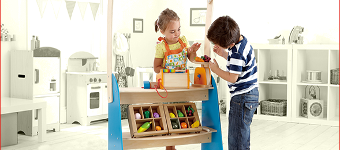 Hape is een van 's werelds grootste producenten van speelgoed uit duurzame materialen. Hape speelgoed is zowel creatief ontworpen als milieuvriendelijk. Hape speelgoed is ontworpen voor kinderen. Ieder product is ontwikkeld om de ontwikkelingsvaardigheden van een kind te verbeteren. Taal noch cultuur of geslacht belemmert intuïtieve speelpatronen. Wat kinderen ervaren als spelen, herkennen ouders en opvoeders als een educatieve basis van sociale, sensorische, lichamelijke en emotionele vaardigheden.
Omdat de feestdagen er weer aankomen, willen we ook graag het speelgoed van Hape onder de aandacht brengen bij de ouders en kinderen. Daarom zijn wij voor deze campagne op zoek naar leuke blogs die content willen plaatsen over babyspeelgoed van Hape. In principe leveren wij een uniek stuk content aan, maar als je zelf een goed idee hebt en leuk kan schrijven over Hape of babyspeelgoed, mag dat natuurlijk ook! Ook mag de aangeleverde content aangepast worden naar de look, feel en tone of voice van jouw eigen website.
Link

Anchor text / Link title

Baby speelgoed
Conditions
Common conditions
The article should have at least 300 words
The article is a permanent placement
Contain 2 links
Other Conditions
Twee links op door ons aangegeven keywords naar een landingpage van Hapespeelgoed.nl.
Geen LinkPizza URL maar gewoon een clean HTML link.
Geen links naar andere (externe-)sites in het artikel.
DA van 20+ is een pré, maar met een goed voorstel is lager ook geen probleem.
Channels
Wanted Categories

Education
Shopping
Family & Parenting
Hobbies & Interest

Campaign closes

in a month

Submitted before date

in 2 months
Apply to join this campaign
Do you want to join this campaign? Log in or sign up and apply straight away!