Briefing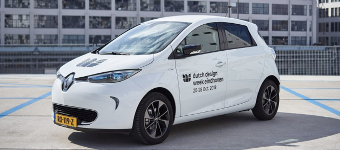 Design en Easy Life innovaties passen in de filosofie van Renault. Dutch Design Week 2018 maakt die waarden concreet. Sinds de oprichting van Renault in 1898 is Easy Life onderdeel van het DNA. Innovaties die het leven van mensen makkelijker maken, zoals elektrisch rijden. Daarom is Renault official partner van de Dutch Design Week (DDW).
Want zie jij het verschil tussen een elektrische auto en een 'gewone' auto? Het zal je wellicht zijn opgevallen dat er steeds meer (semi-)elektrische voertuigen rondrijden. Inmiddels zijn dat er namelijk bijna 100.000; een verdubbeling sinds 2014. De elektrische auto is op zich al een trend, maar wat zijn de trends op het gebied van elektrisch rijden?
grotere actieradius (Benoem Renault ZOE)
groei laadinfrastructuur
innovatie laadpalen
100% elektrisch leasen
elektrische auto delen
Leasen
Voordelen van elektrisch rijden, denk aan o.a. milieu maar ook lage bijtelling
Design
Graag zien wij een leuk en inspirerend artikel over de laatste trends van elektrische auto's. Hiervoor verwijzen naar https://www.renault.nl/modellen/elektrische-autos.html en https://www.renault.nl/modellen/elektrische-autos/zoe.html of een tof artikel over innovatie: dat is de reden dat Renault en de Dutch Design Week zo'n mooie match zijn.
Link

Anchor text / Link title

Elektrische auto
Conditions
Common conditions
The article should have at least 300 words
Use at least one image
The article is a permanent placement
Other Conditions
Minimaal 400 woorden
Concurrenten benoemen kan in overleg
Links en ankertekst in nader overleg
Channels
Wanted Categories

Automotive
Arts & Entertainment
Business
Society
Technology & Computing

Target audience age

35 till 44
25 till 34
45 till 54

Campaign closes

in one day

Submitted before date

in 2 days
Apply to join this campaign
Do you want to join this campaign? Log in or sign up and apply straight away!