Briefing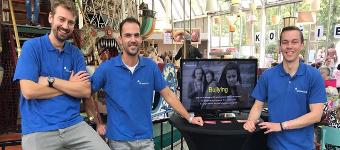 Een groot deel van ons leven speelt zich tegenwoordig online af. Dat geldt ook voor onze kinderen, op een telkens jongere leeftijd. De Grownhub app geeft jou de nodige controle, kennis en inzichten op het gebied van smartphones, tablets, apps en social media. We helpen jou om samen met je kind afspraken te maken en te werken aan een mediawijze opvoeding. Welke apps gebruikt je kind, hoe lang en wat is "normaal"? Wij geven het inzicht wat je nodig hebt om afspraken te maken en het gesprek te voeren met je kind.
We zijn op zoek naar influencers die het leuk vinden om te bloggen over mediawijsheid én de nieuwe app en site die kinderen én ouders gaat helpen hiermee.
Er wordt op dit moment gezocht naar mensen die (gratis) willen testen, dat mag als onderwerp zeker worden genoemd.
Link

Anchor text / Link title

website opdrachtgever
Conditions
Common conditions
The article should have at least 300 words
Shared through social media
The article is a permanent placement
Other Conditions
Een link naar de website en/of de app - graag!
Noemen dat ze startup van de maand zijn aldus YoungStartup - ook graag! (info)
Channels
Wanted Categories

Family & Parenting
Education

Campaign closes

within 2 weeks

Submitted before date

within 3 weeks
Apply to join this campaign
Do you want to join this campaign? Log in or sign up and apply straight away!