Briefing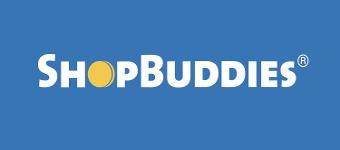 Bij ShopBuddies.nl ontvang je heel eenvoudig extra cashback bij het online shoppen. Via de meer dan 30.000 aangesloten webshops biedt ShopBuddies.nl cashback op miljoenen producten, van kleding en schoenen tot vakanties, meubels en elektronica. Ook kan je via de ShopBuddies.nl App op jouw mobiel cashback sparen en profiteren van de beste deals.
Met ShopBuddies.nl willen wij jou de beste & meeste voordelen bieden bij het online winkelen. Als je je (gratis) registreert als lid van ShopBuddies.nl, profiteer je van de volgende voordelen: De hoogste Cashback korting bij online aankopen
Gratis deelname
Je kunt de cashback direct laten uitbetalen op jouw rekening of omzetten in leuke cadeaubonnen
Exclusieve deals voor extra korting
Meer dan 30.000 aangesloten webshops in Europa
Onderdeel van OrangeBuddies Media
ShopBuddies.nl is één van de cashback websites van OrangeBuddies Media, een online mediabedrijf dat sinds de oprichting in 2009 is uitgegroeid tot een internationaal bedrijf met kantoren in Nederland, Duitsland, Spanje, het Verenigd Koninkrijk en Canada. Met meer dan 100 cashback websites in Europa, Australië en de Verenigde Staten. OrangeBuddies is gespecialiseerd in online cashback & loyalty portals met als doel toegevoegde waarde te bieden voor zowel consumenten als adverteerders.
Waar zijn wij naar op zoek?
Voor ShopBuddies.nl zijn wij op zoek naar bloggers die het leuk vinden om een artikel te schrijven over "Online Shopping". Als één van de grootste cashback websites van Nederland is het van belang dat het concept "Cashback" centraal staat, maar dat kan op verschillende manieren; Het kan een blog zijn over bijvoorbeeld "Geld besparen op je online aankopen" wat meer algemener is ingestoken of het kan een blog specifiek zijn over het platform ShopBuddies. Wij horen graag in je pitch hoe jij de campagne wilt insteken.
Link

Anchor text / Link title

shopbuddies
Conditions
Common conditions
The article is a permanent placement
The article should have at least 300 words
Contain 2 links
Use at least one image
Channels
Wanted Categories

Target audience age

35 till 44
18 till 24
65+
55 till 64
45 till 54
25 till 34

Campaign closes

6 months ago

Submitted before date

6 months ago