Briefing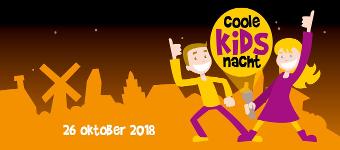 What do we want an influencer to do:
De Coole Kidsnacht is op vrijdagavond 26 oktober bij zo'n 20 culturele instellingen in Friesland. Zij openen tussen 17.00 en 21.00 uur hun deuren voor (groot)ouders met kinderen tussen de 4 en 12 jaar. Dit tijdstip, na de reguliere openingstijden, zorgt ervoor dat kinderen het rijk 'alleen' hebben. Spannend en cool! (Je hoeft het event niet te bezoeken maar je bent natuurlijk van harte welkom). Meer info vind je op www.museum.frl.
Om dit coole kidsevent meer onder de aandacht te brengen zoeken wij bloggers/vloggers uit het Noorden die ons gave kinderevenement in de herfstvakantie willen delen en hun bezoekers willen 'tippen' op hun social kanalen en evt. blog. Let op: het gaat dus om berichtjes voorafgaand aan het event: Coole Kidsnacht Friesland.
Ik ben op zoek naar influencers die ouders OF basisschoolkinderen aanspreken.