Briefing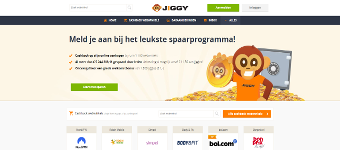 Jiggy is een online spaarprogramma. Consumenten kunnen zich gratis aanmelden voor Jiggy en ontvangen direct 1.500 gratis Jiggies ofwel € 1,-. Op verschillende manieren kunnen Jiggy leden punten (Jiggies) sparen. De voornaamste manier is door het klikken op Jiggy mailings die leden dagelijks ontvangen. De inhoud van deze mailings variëren van de promotie van een verzekering tot shoppen bij een grote retailer. Leden die via Jiggy shoppen ontvangen cashback in Jiggies. Bij een x saldo in Jiggies kan er een uitbetaling in euro's worden aangevraagd.
Voor meer informatie over Jiggy verwijs ik je graag naar: https://www.jiggy.nl/concept. Daarnaast hebben wij op Facebook een grote fanbase met ruim 37K likes. We posten geregeld leuke winacties die erg populair zijn.
De doelstelling van dit artikel is het genereren van nieuwe Jiggy leden. Wij starten graag een toffe influencer / publisher campagne om te kijken wat jouw artikel voor ons kan betekenen.
Er zijn een tweetal landingspagina's waarnaar gerefereerd kan worden in het artikel:
link naar onze Jiggy homepage: https://www.jiggy.nl
link naar onze Jiggy iPhone campagne: https://www.jiggy.nl/win-een-iphone
Daarnaast is het volgende ook mogelijk: Je kunt een Jiggy account bij ons aanmaken en via jouw persoonlijke link nieuwe Jiggy leden werven en hierover verdienen.
Graag bedenken we samen met jou een invalshoek voor een artikel. Het artikel kan toegespitst worden op het spaarprogramma Jiggy, jouw ervaring met het online shoppen via Jiggy of hopelijk heb je zelf al een leuk idee na het lezen van deze opdracht, graag zijn wie dit idee terug in je pitch :-)
Link

Anchor text / Link title

Online spaarprogramma
Conditions
Common conditions
The article should have at least 300 words
The article is a permanent placement
Contain 2 links
Channels
Campaign closes

in one week

Submitted before date

within 2 weeks
Apply to join this campaign
Do you want to join this campaign? Log in or sign up and apply straight away!