Briefing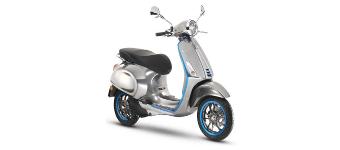 Een elektrisch aangedreven scooter is ontzettend stil en stoot geen stinkende en vervuilende uitlaatgassen uit. Het is daarom een milieubewuste en duurzame oplossing om je snel van A naar B te brengen. Daarnaast hoef je niet meer naar een tankstation om te gaan tanken. Je laadt 'm snel en gemakkelijk op via een stopcontact bij je thuis of op je werk. Ontzettend handig en het bespaart je bovendien handenvol geld aan dure benzine. Niet zo gek dus dat de laatste jaren steeds meer mensen kiezen voor een elektrische scooter. De brandstoftank is vervangen door een moderne accu, wat ideaal is voor dagelijks verkeer en middellange afstanden. Je hoeft je dus geen zorgen te maken over de actieradius.
Voordeelscooters biedt scooters van bekende merken, zoals Vespa en Piaggio, aan voor mooie prijzen. Daarnaast kan je bij ons ook terecht voor accessoires zoals helmen en manden, onderhoudsbeurten en reparaties. Stijlvol en praktisch de weg op!
Wij zijn op zoek naar bloggers en influencers in de lifestyle branche die een artikel kunnen schrijven over de nieuwe, elektrische scooter van Vespa: De Vespa Elletrica.
Link

Anchor text / Link title

elektrische scooter
Conditions
Common conditions
The article is a permanent placement
The article should have at least 300 words
Contain 2 links
Use at least one image
Other Conditions
Een Domain Authority van minimaal 20.
Channels
Wanted Categories

Automotive
Hobbies & Interest
News

Target audience age

35 till 44
65+
18 till 24
55 till 64
45 till 54
25 till 34

Campaign closes

6 months ago

Submitted before date

6 months ago