Briefing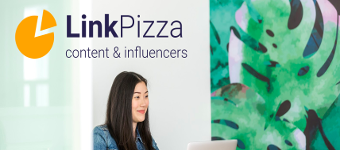 LinkPizza is hard aan het groeien en dat is te danken aan jullie! Wist je al dat wij inmiddels het mooie aantal van 500 campagnes zijn gepasseerd? Ons doel is om de grootste marktplaats ter wereld te worden op het gebied van content- en influencermarketing en daar hebben we jullie hulp bij nodig.
Het doel van deze campagne is om het platform LinkPizza en haar duizenden publishers onder de aandacht te brengen van (potentiële) adverteerders.
Belangrijke speerpunten zijn:
Resultaten inzichtelijk in één dashboard (views, reads, CPV, CPR);
Artikelen blijven bestaan (yes, content wint het van tijdelijke advertentiekosten zoals Google ads);
Geautomatiseerde facturatie;
Inkopen van verschillende soorten content in 1x (meerdere publishers en meerdere kanalen in 1 campagne);
Mogelijkheid tot samenwerkingen met duizenden gevalideerde bloggers/influencers;
Nodig publishers uit of laat ze naar jouw campagne komen door middel van een pitch.
De aanvoer van nog meer nieuwe adverteerders zal resulteren in meer interessante en lucratieve campagnes voor jullie en voor ons. Als jij een mooi netwerk hebt in de wereld van adverteerders en deze in contact brengt met ons, wordt dit rijkelijk beloond.
Kortom: Become a LinkPizza ambassador! Hoe? Volg ons op Twitter, Instagram, LinkedIn en Facebook, promoot onze service op zoveel mogelijk kanalen én schrijf een toffe post waarin je onze pluspunten voor adverteerders benoemt. Deze post deel je vervolgens op al je kanalen waarin je ons tagt. We ontvangen graag je pitch met daarin jouw plan van aanpak.
Keywords voor in de titel van het artikel zijn bijvoorbeeld:
Influencer en contentmarketing samenwerkingen
Samenwerkingen sponsored content
Influencer zoeken
Sponsored content campagne
Link

Anchor text / Link title

Linkpizza.com
Conditions
Common conditions
Use at least one image
Contain 2 links
Shared through social media
The article is a permanent placement
Other Conditions
Je hebt een aantoonbaar netwerk van adverteerders
Volg ons op Facebook
Volg ons op LinkedIn
Volg ons op Instagram
Instagram post: Tag @linkpizza in de post en gebruik #linkpizzaambassador in je omschrijving
Facebook: link door naar onze (inschrijf-)pagina voor adverteerders; https://linkpizza.com/nl/advertisers
Channels
Wanted Categories

Law,Government & politics
Society
Real Estate
Home & Garden
Shopping
News
Hobbies & Interest
Food & Drink
Careers
Social
Personal Finance
Religion & Spirituality
Business
Family & Parenting
Technology & Computing
Arts & Entertainment
Automotive
Education
Sports
Pets
Travel
Beauty & Fashion
Health & Fitness
Science

Target audience age

45 till 54
35 till 44
25 till 34
18 till 24
55 till 64

Campaign closes

within 15 hours

Submitted before date

in one week
Apply to join this campaign
Do you want to join this campaign? Log in or sign up and apply straight away!