Briefing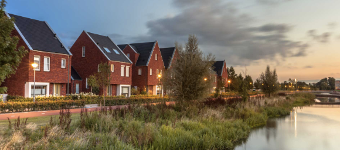 Waar denk jij aan bij comfort in huis? Fijne meubels of sfeervolle verlichting? Een aangename binnentemperatuur zorgt ook voor het ultieme comfort. Het is dan ook niet vreemd dat veel mensen benieuwd zijn of een warmtepomp dat comfort kan bieden. De vraag is: zorgt dit voor hetzelfde comfort of misschien nog wel meer dan een cv-ketel? NIBE vertelt je graag meer over de mogelijkheden voor verwarmen en koelen, het geluid van een warmtepomp en de manier waarop een slimme warmtepomp het je in huis gemakkelijker maakt. Een zorgeloze warmte en een duurzaam huis gaan uitstekend samen.
NIBE is een Zweedse producent van warmtepompen en duurzame klimaatoplossingen in het algemeen. In Zweden worden warmtepompen al jarenlang gebruikt, in Nederland is dit product echter relatief nieuw. Doel van deze campaghne is om mensen te informeren over duurzaam wonen en warmtepompen. De creativiteit ligt bij jou als publisher, indien gewenst aangevuld met inhoudelijke input vanuit NIBE. We zijn op zoek naar blogs in de volgende onderwerpen: duurzaam, wonen en techniek.
Link

Anchor text / Link title

variabel
Conditions
Common conditions
The article is a permanent placement
Other Conditions
Minimaal 350 woorden
Doorplaatsen op Social media is een pré
Minimaal 1 link naar onze website
Link en ankertekst zijn nader te bepalen
Channels
Wanted Categories

Business
Society
Real Estate
Health & Fitness
Home & Garden

Campaign closes

within 3 weeks

Submitted before date

in a month
Apply to join this campaign
Do you want to join this campaign? Log in or sign up and apply straight away!