Briefing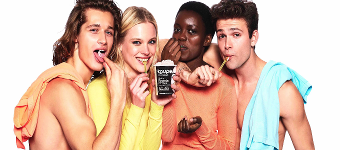 Een strak strandlichaam bouw je in de winter, dat weet iedereen. Het recept? Sporten en goed eten. Gelukkig helpt Koupe je bij dat laatste op een hele lekkere manier. Bouw je zomerlichaam met Koupe, in de winter! 🍨
Imagine this: your favourite ice cream is not only super tasty, but also good for you.
Imagine that: compared to normal ice cream it has 40% less calories, 70% less sugar and 3 times the amount of protein.
We bet that would make you feel good in all kinds of ways.
Koupe's AWARD WINNINGprotein ice cream delivers all that. Available in Chocolate, Strawberry, Vanilla and Banana.
Wij willen met jou een giveaway doen voor jouw volgers en wij vragen van jou 3 posts:
👉 1: Een winterse foto van jou met het ijs in het thema
👉 2: Giveaway. Je mag namens ons een win-actie doen waarbij 1 deelnemer alle 5 smaken Koupe wint. Wat moeten ze er minimaal voor doen? 2 vrienden taggen onder jouw post + de Koupe Insta volgen
👉 3: Bekendmaking winnaar, een foto van jou en Koupe met de aankondiging. Het zou leuk zijn als je ook Insta stories wil plaatsen.
Good luck & enjoy!
Link

Anchor text / Link title

Ontdek Koupe!
Conditions
Common conditions
The article is a permanent placement
Shared through social media
Other Conditions
Tag Koupe in de post: @koupe_protein_ice (liefst in de tekst, evt ook in de afbeelding)
Gebruik de volgende hashtags bij elke post: #koupe #KoupeWinter #KoupeSummer
Een samenwerking betekent 3 posts, en Instastory daar boven op is een pre
Channels
Wanted Categories

Beauty & Fashion
Sports
Food & Drink
Health & Fitness

Target audience age

35 till 44
18 till 24
25 till 34

Campaign closes

5 months ago

Submitted before date

4 months ago