Briefing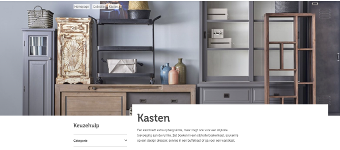 Woonexpress is het grootste Nederlandse woonwarenhuis. Je vindt bij ons écht alles voor alle kamers van je huis allemaal onder 1 dak! We bieden je de nieuwste woontrends voor elke stijl en smaak! Je vindt bij ons complete woonkamers, topkwaliteit keukens, romantische slaapkamers, hippe kinderkamers en alles voor de studeer-/werkkamer. Maar ook fraaie verlichting, wanddecoratie, badkameraccessoires, gordijnen en de leukste woonaccessoires. Wat je ook zoekt voor je huis...Woonexpress heeft het.
Deze samenwerking gaat specifiek over onze kasten: Een kast biedt extra opbergruimte, maar zorgt ook voor een stijlvolle toevoeging aan de ruimte. Zet boeken in een stijlvolle boekenkast, souvenirs op een design dressoir, servies in een buffetkast of ga voor een wandkast.
Je bent vrij om zelf de inhoud van de blog te bepalen. Dit kan bijvoorbeeld een blog zijn over jouw nieuwe kast in de woonkamer of slaapkamer, een inspiratieblog met kasten die je graag zou willen hebben of tips voor het kopen van een nieuwe kast. We zijn benieuwd naar jouw creatieve idee! We zijn op zoek naar een natuurlijk artikel met een link die uitnodigt om door te klikken. Dit bereik je bijvoorbeeld door het woord 'deze' voor de linktekst te plaatsen.
LET OP: er is ook een pitch voor Woonexpress over eettafels. Als je daar al op hebt gepitcht, kunnen we je helaas niet accepteren voor de blog over eettafels.
Elke maand gaan wij opnieuw een aantal samenwerkingen aan, het kan dus even duren voor je een reactie ontvangt.
Link

Anchor text / Link title

kasten of kast
Conditions
Common conditions
Contain 2 links
Shared through social media
The article is a permanent placement
The article should have at least 300 words
Other Conditions
Links: 1 naar Woonexpress en minimaal 1 andere externe link, niet naar een concurrent en ook niet naar een commerciële website)
Er staan meerdere interieur-artikelen op je website
Zorg ervoor dat de link uitnodigt om erop te klikken door er een activerende zin van te maken. Bijvoorbeeld "We hebben verschillende modellen overwogen tijdens onze zoektocht naar een nieuwe kast voor in de woonkamer. Deze collectie kasten vonden we prachtig" waarbij "kasten" dan het linkje is.
Channels
Wanted Categories

Target audience age

Between 13 and 65

Campaign closes

33 minutes ago

Submitted before date

in one week