Briefing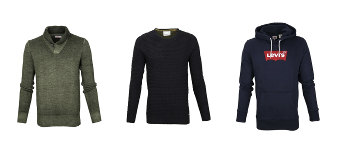 Een herentrui is een multifunctioneel kledingstuk. Je kunt het over t-shirts of overhemden dragen, als stoere losse bovenkleding of als backup voor een frisse lente of herfst avond. Vroeger werden truien altijd met de hand gebreid en bestonden zij uit wol. De trui is tegenwoordig een verzamelnaam voor een hoop verschillende kledingstukken, zoals pullovers, sweatvest en sweaters. Met of zonder capuchon. Alle truien koop je snel en gemakkelijk online bij Suitableshop!
De herentrui is in alle opzichten vernieuwend en uiterst veelzijdig, of het nu de snit, de vorm of de kleur betreft. Zo zijn er grof gebreide herentruien, Noorse truien, truien van fijn weefsel of tricotage, met col, polokraag, mockerkraag, V-hals, ronde hals of met rits, effen truien en sweaters heren met smalle strepen en brede strepen, print applicaties, stiksels en dessins in de vorm van ruitjes. Voor de fabricage van mannentruien worden behalve wol ook katoen, kasjmier en hoogwaardige kunstvezels (100% of in combinatie met natuurvezels) gebruikt.
Graag zien wij een artikel op jouw website over herentruien. Het is de bedoeling dat je je lezers inspireert en natuurlijk verwijst naar Suitableshop..
Link

Anchor text / Link title

Heren trui
Conditions
Common conditions
Use at least one image
The article should have at least 300 words
Contain 2 links
Shared through social media
The article is a permanent placement
Other Conditions
tweede link en anchortekst in nader overleg
Geen no-follow tag gebruiken
Geen pop-ups op de betreffende pagina
Je hebt veel (heren-) fashion gerelateerde artikelen op je website staan
Channels
Wanted Categories

Beauty & Fashion
Shopping

Target audience age

45 till 54
35 till 44
25 till 34
18 till 24
55 till 64

Campaign closes

within 2 weeks

Submitted before date

within 3 weeks
Apply to join this campaign
Do you want to join this campaign? Log in or sign up and apply straight away!