Briefing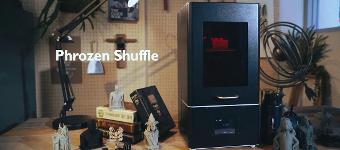 Er is 2 jaar geleden een nieuwe soort 3D printer op de markt gekomen die momenteel zeer populair aan het worden is: de Resin 3D printer. Deze printer belicht kunsthars en 'trekt' het object als het ware uit een klein bad met hars. FEPshop is een webshop waar je alles voor die manier van printen kunt krijgen: de printers, de hars, de velletjes FEP die onderin het harsbad zitten, en onderdelen. De producten worden wereldwijd verzonden en FEPshop heeft een hele goede naam in het wereldje van de Resin 3D printers. (Ook wel 'LCD printers' genoemd). FEPshop is exclusief distributeur van het merk Phrozen, een van de meest populaire producten op de markt. Zie ook de bijgevoegde foto (online in een beter formaat te vinden!)
We zijn op zoek naar leuke, gevarieerde posts over dit onderwerp die verwijzen naar de website van FEPshop en erg benieuwd naar jouw creatieve insteek.
Link

Anchor text / Link title

alles voor resin 3D printers en LCD 3D printen
Conditions
Common conditions
Put a link in the first paragraph
Use at least one image
The article should have at least 300 words
Shared through social media
Contain 2 links
The article is a permanent placement
Channels
Wanted Categories

Target audience age

45 till 54
35 till 44
25 till 34
18 till 24

Campaign closes

in a month

Submitted before date

in a month
Apply to join this campaign
Do you want to join this campaign? Log in or sign up and apply straight away!