Briefing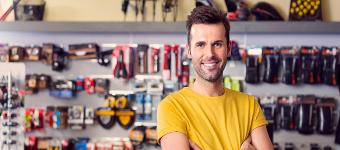 Ons Magazijn is de nieuwe webshop van de lokale winkelier. Met veel passie en trots bieden wij een online assortiment met alledaagse producten, waarvoor je nu altijd - op elk moment van de dag - bij ons terecht kunt. Online shoppen met de persoonlijke service van een echte winkel. De lokale winkels verdwijnen namelijk steeds vaker uit de winkelstraat, en dit mag simpelweg niet gebeuren. Aangezien menig winkelier geen budget heeft voor een eigen webshop, geen beschikking heeft tot een netwerk van leveranciers en ook vaak geen tijd heeft om de benodigde marketing te bedrijven hebben we als overkoepelend orgaan de handen ineen geslagen en verzamelen we de winkeliers in Nederland. Niet om tegen mensen te zeggen dat ze niet bij Bol of Coolblue moeten kopen, maar om mensen uit te nodigen om óók lokaal te kopen, zonder het verlies van gemak of voordeel.
USP's:
Lokaal
Gratis bezorgd bij een aangesloten lokale winkelier (ook al kost het maar 0,01)
Meer dan 45.000 artikelen in het assortiment, elke week nieuwe toevoegingen
Persoonlijke service
Goede prijs/kwaliteit verhouding
Gratis thuisbezorgd vanaf € 35,-
Hoofddoel van de campagne is mensen kennis te laten maken met Ons Magazijn en te zorgen dat ze zich achter de winkelier scharen. Indien nodig kunnen we een unieke kortingscode aan de actie koppelen waarbij we 10% korting geven op het gehele assortiment, m.u.v. boeken vanwege de Wet op de Vaste Boekenprijs.
Link

Anchor text / Link title

De webshop van je lokale winkelier
Conditions
Common conditions
Put a link in the first paragraph
Use at least one image
Shared through social media
The article is a permanent placement
The article should have at least 300 words
Channels
Wanted Categories

Hobbies & Interest
Social
Society
Family & Parenting
Shopping
News
Home & Garden

Target audience age

Between 25 and 65

Campaign closes

7 months ago

Submitted before date

7 months ago