Briefing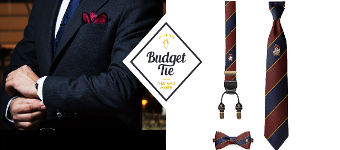 Stropdassen met logo zijn uitermate geschikt om een uniforme uitstraling te creëren voor (studenten)verenigingen, disputen en besturen, maar ook voor personeel op de werkvloer, tijdens een bedrijfspresentatie of beurs. Budget Tie is specialist in het vervaardigen van custom made artikelen zoals stropdassen met logo, bretels, strikjes en chokers.
Wij zijn op zoek naar publishers en influencers die de studentenmarkt kunnen aanspreken. Het is de bedoeling dat je je lezers inspireert over de mogelijkheden van het laten bedrukken / weven van stropdassen met logo en aanverwante custom made artikelen die Budget Tie aanbiedt. Hierbij moet het bewustzijn gecreëerd worden dat Budget Tie tevens in kleine aantallen levert. Denk hierbij aan kleine studentenhuizen, clubjes en disputen en offerte aanvragen zijn altijd vrijblijvend.
Link

Anchor text / Link title

Stropdassen met logo
Conditions
Common conditions
The article is a permanent placement
The article should have at least 300 words
Contain 2 links
Shared through social media
Use at least one image
Other Conditions
Let op: de doelgroep van jouw website of Instagram moet overeen komen met de door ons beschreven doelgroep
Delen op Snapchat is een pré, vermeld in je pitch of je dit gaat doen en deel de views achteraf in de opdracht
De opgegeven URL is niet de link die je voor ons gaat plaatsen, deze communiceren we na het aangaan van een samenwerking
Plaats je een Instagram post: dan leveren wij een unieke kortingscode aan speciaal voor jouw volgers.
Channels
Wanted Categories

Business
Education
Beauty & Fashion
Sports

Target audience age

Campaign closes

6 months ago

Submitted before date

5 months ago