Briefing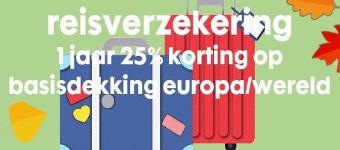 De laatste koffers gepakt, de deur op slot, de vakantie kan beginnen! Met de goedkope reisverzekering van HEMA kun je het hele jaar onbezorgd en goed verzekerd op reis. Of je nu met vakantie gaat of gewoon een weekendje weg. Je kiest zelf dekking voor Europa of de hele wereld. Het afsluiten is zo geregeld. De voorpret kan al beginnen als je je bedenkt dat de belangrijke dingen standaard verzekerd zijn.
Actie: Doormiddel van de actiecode : HEMA25 krijgen verzekerden een jaar lang 25% procent korting op hun reisverzekering bij HEMA, dit willen we natuurlijk met zoveel mogelijk mensen delen. Graag ontvangen we een creatief idee van jou waarin jij beschrijft hoe je deze vette actie goed naar voren kunt laten komen.
Link

https://verzekerdbijhema.nl/reisverzekering?utm_source=linkpizza&utm_medium=link&utm_campaign=25_reis

Anchor text / Link title

met actiecode HEMA25 krijg je een jaar lang 25% korting korting op de reisverzekering van HEMA
Conditions
Common conditions
Use at least one image
The article should have at least 300 words
The article is a permanent placement
Other Conditions
Maximale vergoeding voor deze samenwerking: €100,-
Geen links naar concurrenten in hetzelfde artikel
Doorplaatsen op social media is een pre
Channels
Wanted Categories

Target audience age

45 till 54
35 till 44
65+
25 till 34
18 till 24
55 till 64

Campaign closes

in a month

Submitted before date

in 2 months
Apply to join this campaign
Do you want to join this campaign? Log in or sign up and apply straight away!