Briefing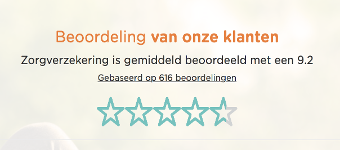 December is de belangrijkste maand voor het kiezen en afsluiten van een zorgverzekering. Één van de belangrijkste aspecten waar men op let bij het kiezen van een zorgverzekering is de prijs. De prijs is echter niet het enige waar men naar moet kijken. De prijs moet namelijk in balans zijn met wat men hiervoor krijgt. UnitedConsumers biedt dit jaar één van de beste prijzen voor de beste voorwaarden. RTL Z schreef hier bijvoorbeeld laatst ook nog over. Via Bewuzt kan UC namelijk een zorgverzekering aanbieden voor een maandpremie van €105,95 en via VGZ (met 10% korting) voor €108,85. Doordat VGZ (nagenoeg) met alle ziekenhuizen en grote zorgaanbieders van Nederland een contract heeft, is dit één van de beste keuzes voor de zorgverzekering van 2019.
Graag ontvangen we jouw idee over een artikel die te koppelen is aan gezondheid en een goedkope zorgverzekering (met de beste voorwaarden) incl. link te plaatsen op jouw kanaal, zodat we ook in 2019 de deelnemers van ons consumentencollectief kunnen helpen aan de beste zorg(verzekering) en service. Heb je al een artikel waar deze link goed in zou passen? Dan staan we daar uiteraard ook voor open, indien de content voldoende aansluit en de prijs hiervoor redelijk is.
Link

Anchor text / Link title

Goedkope zorgverzekering
Conditions
Common conditions
The article is a permanent placement
The article should have at least 300 words
Contain 2 links
Other Conditions
Naast een link naar onze website (dit moet de eerste link in het artikel zijn), willen we graag ook een kwalitatieve link naar een andere betrouwbare partij zoals bijv. de rijksoverheid of de belastingdienst.
Channels
Wanted Categories

Business
Society
Home & Garden
Health & Fitness
News
Law,Government & politics
Personal Finance

Target audience age

35 till 44
18 till 24
65+
55 till 64
25 till 34
45 till 54

Campaign closes

5 months ago

Submitted before date

5 months ago