Briefing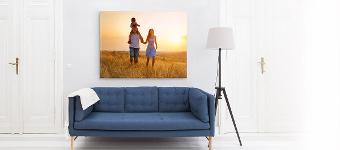 Wij helpen onze klanten van hun huis een thuis te maken door van hun herinneringen kunst te maken. myposter is een van Europa's grootste producenten van printproducten, zoals posters, foto's op canvas, -acryl, -in fotoboeken en nog veel meer. Onze klanten kunnen hun eigen afbeeldingen uploaden of kiezen uit onze grote database met foto's.
We gebruiken de nieuwste printtechnieken, milieuvriendelijke inkt en materialen van de hoogste kwaliteit. Onze canvas foto's worden in-house geproduceerd en gespannen op MDF, waardoor er geen extra bomen gekapt hoeven te worden. MDF heeft ook het voordeel dat het niet verbuigt, waardoor het canvas ook niet opnieuw gespannen hoeft te worden. Klanten hebben de keus tussen een spanraam met een dikte van 2,5 cm, en van 3,8 cm.
Wat zien we graag terug in het artikel?
We willen graag onze foto's op canvas promoten (je kunt hier meer info over vinden op onze website, of gewoon van ons! Laat gerust wat van je horen. We willen graag dat het artikel gaat over het leuk decoreren van je huis, en hoe het ophangen van foto's van je dierbaarste herinneringen iedere kamer kan doen transformeren.
We staan graag open voor suggesties voor hoe jij denkt dat dit als beste bij jouw pagina kan passen!
Punten van aandacht
Het artikel moet ten minste een foto bevatten. Indien nodig kunnen wij deze aanleveren, of je kunt er een van onze site nemen.
Link

Anchor text / Link title

foto op canvas
Conditions
Common conditions
The article is a permanent placement
Use at least one image
Other Conditions
Minimaal 500 woorden
Gebruik minimaal 1 afbeelding, op te vragen of van onze site te halen
Channels
Wanted Categories

Home & Garden
Family & Parenting

Campaign closes

3 months ago

Submitted before date

2 months ago