Briefing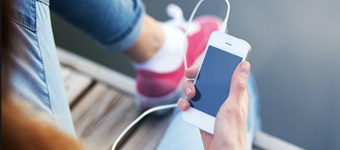 SmartPhonePolis beschermt je tegen de kosten en gevolgen van onverwachte gebeurtenissen. En of dat nu diefstal, valschade, waterschade of gewoon een mechanische storing is: wij garanderen een supersnelle reparatie of vervanging zodat jij in no-time weer kunt genieten van jouw mobiele telefoon, IPad of je laptop.
Smartphones, tablets en laptops die je niet bij aanschaf hebt verzekerd, kun je alsnog verzekeren bij SmartPhonePolis, mits deze niet ouder zijn dan één jaar en deze zowel geen schade vertonen als ook storingsvrij werken. Je kostbare apparaat is dan volledig verzekerd voor alle onvoorziene gebeurtenissen. Dat geeft een goed gevoel.
Bij SmartPhonePolis mag je zelf kiezen welke risico's je wel of niet wilt verzekeren. Tegen diefstal mag, maar hoeft niet. Zonder eigen risico kan, maar met een klein eigen risico mag ook. Hoe minder opties je verzekert, hoe goedkoper de verzekering is. Je kunt zelf bekijken wat het afdekken van de risico's voor jou betekent en wat dat in jouw specifieke situatie kost.
Graag gaan wij de samenwerking aan met influencers en publishers die een artikel kunnen schrijven waarin de lezers zich herkennen. Iedereen heeft wel eens in een situatie gezeten waarin de diensten van SmartPhonePolis zeer wenselijk waren geweest. Je mag zelf de inhoud van het artikel bepalen maar het belangrijkst is dat het volgende er wel naar voren komt: Met SmartPhonePolis verzeker je je telefoon voor alles wat er mis kan gaan en waar je van te voren geen rekening mee had gehouden. Het maakt niet uit wie de schade aan heeft gebracht of wat er gebeurd is, gestolen of beschadigd: met een verzekering van SmartPhonePolis ben je direct verzekerd en word je snel geholpen.
Kun jij hier een tof en goed gelezen artikel van maken? Dan ontvangen we graag je pitch met motivatie!
Link

Anchor text / Link title

In overleg
Conditions
Common conditions
The article is a permanent placement
Shared through social media
Use at least one image
Other Conditions
Het artikel bevat minimaal 500 woorden
Je plaatst 2 tot 3 links naar SmartPhonePolis
Links en ankerteksten in nader overleg
Minimaal 6 interne links van andere artikel naar dit SmartPhonePolis artikel
Channels
Wanted Categories

Hobbies & Interest
Family & Parenting
Technology & Computing
Travel

Target audience age

35 till 44
25 till 34
45 till 54

Campaign closes

3 months ago

Submitted before date

3 months ago