Briefing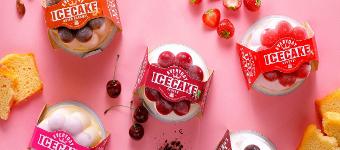 Every IceCake wil graag haar nieuwe producten met bijbehorende winactie onder de aandacht brengen bij het brede publiek. Daar kunnen wij jullie hulp bij gebruiken! Daarom is Everyday IceCake op zoek naar influencers die inspirerende content willen schrijven over onze innovatieve desserts, net nieuw in het vriesvak. Het is een heerlijke combinatie van ijs, cake & saus. Kun jij met jouw content mensen interesseren en enthousiast maken voor Everyday IceCake op een persoonlijke manier? Zodat iedereen warmloopt voor onze ijskoude desserts? Onze winactie 'Vind een gouden dukaat in een van onze IceCakes', waarbij consumenten prachtige prijzen kunnen winnen, mag in dit inspirerende verhaal natuurlijk niet ontbreken. Eén simpele handeling en er komt een prachtige gestorte IceCake op tafel: the perfect serve! De zoete verleiding om samen te delen – in 4 prachtige hartjes.
Laat ons weten wat je voor ons kunt betekenen. We zijn niet alleen nieuwsgierig naar jouw aanpak, maar ook erg benieuwd wat je eerder geplaatst hebt. Voeg daarom aan jouw motivatie een URL toe van een eerder geplaatst artikel of advertorial en geef aan waarom je juist op die content zo trots bent. Als influencer kun jij heel goed inschatten welke content jouw doelgroep inspireert, dus daarom krijg je van ons volledige creatieve vrijheid. Verwerk de link http://www.icecake.nl/ op een natuurlijke manier in jouw content en benoem Everyday IceCake minimaal één keer en ook de verschillende smaken één keer. Het is niet de bedoeling dat je vergelijkingen met concurrerende producten in jouw content verwerkt.
Link

Anchor text / Link title

Everyday IceCake
Conditions
Common conditions
Use at least one image
Shared through social media
The article is a permanent placement
The article should have at least 300 words
Other Conditions
Het hoofdzoekwoord (anchor tekst) komt terug in de titel van het artikel
Zorg ervoor dat het aantal geschatte views in de eerste maand kloppend zijn met de te realiseren resultaten.
Channels
Wanted Categories

Social
Family & Parenting
Food & Drink
Home & Garden

Target audience age

Between 13 and 64

Campaign closes

4 months ago

Submitted before date

4 months ago