Briefing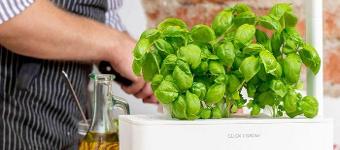 Dé smart home specialist met webshops in Nederland, België, Frankrijk, Duitsland en het Verenigd Koninkrijk is 50five. Onze ambitie is om hét platform te worden binnen de snelgroeiende smart home markt.
Wij merken dat veel mensen nog niet weten dat er voor dagelijkse problemen of frustraties vaak slimme oplossingen zijn. We proberen daarom regelmatig unieke externe mogelijkheden te vinden voor uitleg of tips en hebben ook een blog vol inspiratie, waarmee we mensen bewust willen maken van slimme alledaagse oplossingen, waarvan velen het bestaan niet weten.
Wij zijn op zoek naar (content) partners die samen met ons dit bewustzijn willen creëren. In dit geval voor een slimme moestuin. Wij bieden hiervoor de Click & Grow Smart Garden aan als product om te reviewen. Dit is een populair product, waarmee je gemakkelijk je eigen moestuin onderhoudt. Ook ideaal voor bijvoorbeeld de AH moestuintjes. Het mooie van dit alles? Na het reviewen mag je de smart garden houden, hij is voor jou! Hiervoor zoeken we met name partners die hun eigen draai kunnen geven aan smart home, waardoor dit jouw lezers inspireert en motiveert. We zoeken daarmee geen voor de hand liggende content, maar zijn vooral benieuwd naar eigenzinnige ideeën. Uiteraard verwachten we ook partners met veel lezers en goede SEO waarden. We worden graag verrast!
Link

Anchor text / Link title

Click & Grow
Conditions
Common conditions
The article is a permanent placement
The article should have at least 300 words
Use at least one image
Other Conditions
Trust Flow (Majestic) van minimaal 15, Citation Flow maximaal 1.5x zo hoog (Bij TF20, dus maximaal CF30 bijvoorbeeld).
Channels
Wanted Categories

Shopping
Home & Garden
Hobbies & Interest
Food & Drink
Social
Health & Fitness
Family & Parenting
Technology & Computing

Target audience age

35 till 44
65+
55 till 64
25 till 34
45 till 54

Campaign closes

3 months ago

Submitted before date

2 months ago