Briefing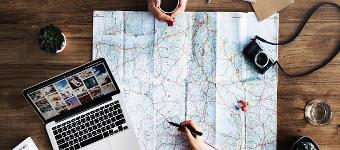 Ben je reislustig en trek je er graag op uit te voet, over water met de fiets, auto of openbaar vervoer? Dan heb jij waarschijnlijk regelmatig een kaart nodig gehad om de juiste weg te vinden. Internet biedt natuurlijk een mooie oplossing, maar niet in elk gebied zijn de internet voorzieningen optimaal en wees eerlijk: reizen met een boek of kaart geeft een heel andere dimensie aan je reis.
Wij zijn op zoek naar travel influencers en publishers die kunnen schrijven over de charme van het reizen met een boek en/of kaart. Wij zijn een zeer bekende uitgever van wandel/water/fietskaarten.
Ga je met regelmaat op reis, heb je een mooi bereik en zie je een goede match? Dan ontvangen wij graag je pitch met daarin jou creatieve idee: wat wordt de insteek van je Instagram post en/of (blog-) artikel?
Anchor text / Link title

nader te bepalen
Conditions
Common conditions
The article is a permanent placement
Shared through social media
Other Conditions
Je gaat proberen een zo groot mogelijk bereik te creëeren voor deze samenwerking
Geef aan hoe je dit bereik gaat realiseren
Als je Instagram inzet plaats je de door ons opgegeven hashtags en tag je ons account
Je artikel bevalt minimaal 1 link naar onze kaarten / boeken
Pitch je met een website? Dan plaats je het LinkPizza script of heb je de plug-in geïnstalleerd
Channels
Wanted Categories

Target audience age

35 till 44
55 till 64
25 till 34
45 till 54

Campaign closes

2 months ago

Submitted before date

a week ago