Briefing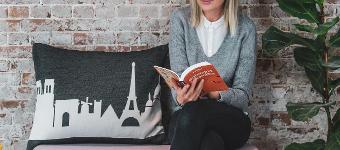 It's about brining the city home.We love combining contemporary design with traditional craftsmanship. Capturing what we love about a city, and bringing that into your home. V. at The City was founded in 2014 and has been growing ever since. We are passionate about quality and each product is made with attention to detail using sustainable production. Either made by hand or using old machines and traditional techniques.
OUR VISION IS TO THINK GLOBAL AND ACT LOCAL. WE SELL AROUND THE WORLD AND PRODUCE LOCALLY. EVERYTHING IS MADE IN THE EU, AS WE KEEP THE SUPPLY CHAIN SHORT AND FAIR.
As a social enterprise, our aim is to produce locally and provide jobs for women disadvantaged on the employment market. We started out with 2 women, to support them with extra income. Currently we provide jobs for 30 women and our aim is to continue to grow and create more jobs. A core aspect of our values is the social impact we create.
The assignment: Recently we have extended our product portfolio with 8 new cities: New York, Paris, London, Zurich, Copenhagen, Rome, Rotterdam and The Hague.
We are looking for influencers who has emotional connection with one of there cities. We would like to ask your help to promote one of our new city pillows, preferably New York, London, Paris or Rotterdam. It could be a blogpost, video, or a photo. Whatever fits you or your Followers best. As we would like to improve our SEO, we are thankful for blogposts linked to our products.
Link

Anchor text / Link title

City Pillow
Conditions
Common conditions
The article is a permanent placement
The article should have at least 300 words
Contain 2 links
Shared through social media
Use at least one image
Other Conditions
Je maakt zelf een toffe afbeelding van je kussen, plaats de in je blog en op social media
Doorplaatsing op Instagram is een voorwaarde, vermeld in je pitch op welk account
Tag @vatthecity in de afbeelding en omschrijving en tag: #vatthecity #citypillow #(plaats afbeelding kussen)
Let op: dit is een barterdeal
Op aanvraag kunnen we een unieke kortingscode aanleveren die jij kunt delen met je volgers en lezers
Engelstalige blogs worden ook gewaardeerd!
Tweede link gaat naar de citypagina waar jij voor gekozen hebt
Je beschrijft in je blog onze visie en de achtergrond van het bedrijf en legt uit waar jij juist voor dit type kussen hebt gekozen
Channels
Wanted Categories

Target audience age

Campaign closes

in 2 days

Submitted before date

within 3 weeks
Apply to join this campaign
Do you want to join this campaign? Log in or sign up and apply straight away!