Briefing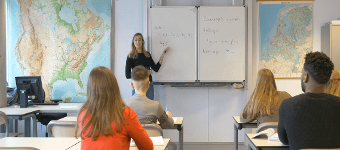 What do we want an influencer to do:
Op 9 mei starten de eerste eindexamens. De laatste sprint voor voortgezet onderwijs leerlingen om vervolgens een start te maken aan een nieuwe studie. Veel leerlingen hebben baat bij wat extra ondersteuning. Eindsprint biedt hierin een oplossing:
Je kunt bij Eindsprint een examentraining op 9 centrale locaties in Nederland volgen. Daarbij vinden we het erg belangrijk dat we elke leerling veel aandacht kunnen geven, daarom werken we in hele kleine groepjes van maximaal vijf leerlingen. Je krijgt bij je training een samenvatting en een oefenboek die je na de training mee naar huis mag nemen. Al onze locaties zijn uitstekend te bereiken het het openbaar vervoer. Leerlingen zijn erg tevreden over de examentraining en beoordelen ons tussen de 8 en de 9. Ongeveer 95% van de leerlingen die een training bij ons volgt slaagt voor het vak dat ze gevolgd hebben. Mocht je het dan tóch niet gehaald hebben, dan krijg je van ons een gratis herexamentraining.
Wij op zoek naar contentsamenwerkingen op diverse blogs en websites. Graag zien wij artikelen over examentips. Daarin kun je onze examentraining en samenvattingen/oefenboeken gebruiken als tip.
Onze voornaamste doelgroep van de opdrachtgever bestaat uit ouders en kinderen die in het examenjaar zitten. Hiervoor zijn wij op zoek naar blogs die in ieder geval raakvlak hebben met ouderschap en educatie.
De voorstellen mogen bestaan uit nieuwe posts of een link in een bestaande post. Delen door middel van een nieuwsbrief of social media is een pré, maar geen must.
We kijken uit naar je voorstel!