Briefing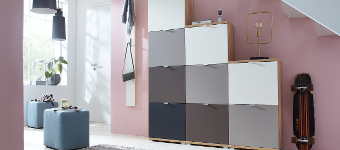 What do we want an influencer to do:
Je bent altijd bezig om van je huis een thuis te maken. Of je er nu net bent ingetrokken of dat je er al jaren woont, het is nooit helemaal af. Je huis is een mix van jouw persoonlijkheid, smaak en interieurtrends. Dit zorgt voor een uniek ingericht huis en daar helpt furnea jou bij. Wij nemen je bij de hand en laten je zien én beleven wat er allemaal mogelijk is. Modern, minimalistisch, warm of stoer design. Alles komt voorbij op een overzichtelijke en aantrekkelijke manier, zodat je geïnspireerd raakt of vindt waar je naar op zoek was. Een soepel proces en een persoonlijke benadering, zodat je echt blij bent met je nieuwe aanwinst Bij Furnea houd je dit fijne gevoel ook na de bezorging, en heb je iets in huis waar je trots op kunt zijn.
De Coloradfo schoenenkast lijn is een hele lijn met 8 hoogglans frontpanel kleuren (met witte corpus/kast) en 4 matte frontpanel kleuren (met eiken corpus/kast). Deze lijn heeft zeven verschillende uitvoeringen schoenenkasten.
Deze lijn heeft ook bijpassende kapstokpanelen, opbergkast, dressoir en ladekasten die de klanten kunnen combineren met deze schoenenkasten.
Graag zien we een post waarin jij deze schoenenkast lijn promoot en de volgende twee links en ankerteksten plaatst: