Briefing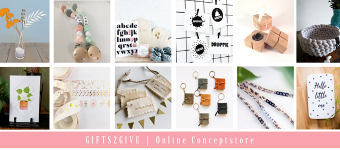 GIFTS2GIVE is een online conceptstore, een webshop waar je lekker doorheen struint en waar van alles te vinden is. Het in een online verzamelplaats, gecreëerd om verschillende creatievelingen de ruimte te bieden zich zichtbaar te maken voor het grote publiek. Wij hebben al heel wat aanmeldingen ontvangen van creatieve ondernemers die inmiddels een plekje "huren" op onze webshop. We zijn nu toe aan de volgende stap; het grote publiek bereiken en bezoekers enthousiast maken voor onze webshop en het productassortiment.
Op onze website zie je onder andere woondecoratie, de leukste kaartjes, heerlijke lekkernijen , accessoires en nog veel meer.
Graag gaan we de samenwerking met diverse bloggers en websites om ons concept te promoten. We willen niet alleen een bepaald product in de spotlights zetten maar meer ons concept als webshop en het totale assortiment.
Het is mogelijk om een unieke kortingscode voor je aan te maken die je kunt delen met je lezers / volgers. Het is voor ons belangrijk dat je doelgroep echt aansluit bij onze webshop / conceptstore, graag willen wij zoveel mogelijk mensen bereiken en naar onze webshop laten gaan.
Link

Anchor text / Link title

www.gifts2give.nl
Conditions
Common conditions
Contain 2 links
Shared through social media
Other Conditions
Plaats je een Instagram post naast je blog, dan worden we graag getagd
tweede link mag je zelf kiezen maar moet rubriek zijn, geen product en graag met ankertekst Online conceptstore (homepage mag ook)
Bereik is voor ons belangrijk dus pitch met een realistisch bereik in de eerste 30 dagen
Channels
Wanted Categories

Campaign closes

in one week

Submitted before date

in a month
Apply to join this campaign
Do you want to join this campaign? Log in or sign up and apply straight away!