Briefing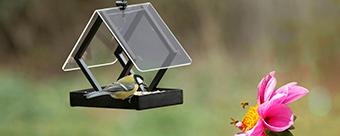 Vivara is dé specialist in producten voor een diervriendelijke tuin. In onze webshop vind je voer voor veel soorten tuinvogels en ander tuindieren, een ruim aanbod voederhuisjes, nestkasten en diervriendelijke planten. We ontwikkelen onze producten in nauwe samenwerking met natuurbeschermingsorganisaties zoals Vogelbescherming Nederland en Natuurmonumenten. Van elk product dat we verkopen gaat een deel van de opbrengst naar deze groene partners.
Juist in de zomer
Nog steeds denken veel mensen dat je vogels alleen in de koude maanden hoeft te helpen door het aanbieden van voer. Niets is minder waar; juist in de zomer zijn er ontzettend veel (jonge) vogels en is er te weinig natuurlijk voedselaanbod. We willen je vragen om onze zadenmixen voor tuinvogels te promoten, op www.vivara.nl te vinden, bijvoorbeeld onder productcodes: 12145, 11205, 12058 en 28030. Onderstreep in je blog of social post het belang én het plezier van het helpen van tuinvogels en moedig je volgers aan onze website te bezoeken: www.vivara.nl
Wie we willen bereiken
Vogels helpen is leuk, geschikt voor alle leeftijden en kan in elke tuin of op elk balkon! Je levert op eenvoudige wijze een bijdrage aan de verbetering van de biodiversiteit (een hot item!) en beleeft de natuur van dichtbij. Onze huidige klanten zijn voornamelijk 45+. Graag spreken wij ook een jongere doelgroep aan, bijvoorbeeld dertigers of jonge gezinnen. We ontvangen graag jouw pitch met daarin jouw idee over een passend artikel of post.
Link

Anchor text / Link title

Vogelvoer
Conditions
Conditions
Contain 2 links
Shared through social media
The article is a permanent placement
Use at least one image
Other Conditions
Inhoud artikel/blog/social post in overleg
Beeldmateriaal eventueel door ons aan te leveren, maar voor Instagram authentiek beeld gebruiken
Plaats in je artikel een link naar onze homepage www.vivara.nl (ankertekst: webshop Vivara) en naar de productcategorie vogelvoer https://www.vivara.nl/vogelvoer.html (ankertekst: vogelvoer)
Tag in Instagram @VivaraNL in afbeelding en tekst
Instagram: # in overleg
.be websites ook welkom, gebruik hierin de links www.vivara.be (ankertekst: webshop Vivara) en naar de productcategorie vogelvoer https://www.nl.vivara.be/vogelvoer.html (ankertekst: vogelvoer)
Channels

Instagram
YouTube
Website
Wanted Categories

Health & Fitness
Social
Pets
Home & Garden
Society
Shopping
Family & Parenting
Hobbies & Interest

Target audience age

Between 25 and 65

Campaign closes

2 months ago

Submitted before date

a month ago