Briefing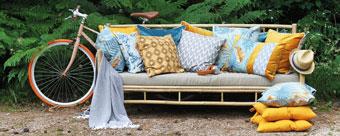 Tuinkussenshop.nl is de grootste tuinkussen webshop van de Benelux. Met meer dan 25.000 tuinkussens op voorraad is er altijd een geschikt tuinkussen te vinden.
Met deze campagne willen we onze collectie tuinkussens onder de aandacht brengen.
Product en sfeerfoto's kunnen worden doorgestuurd. Voor de productfoto's graag doorgeven van welk product u deze wenst te ontvangen. Voor de sfeerfoto's graag een emailadres doorgeven zodat we deze per wetransfer kunnen doorsturen.
We verwachten per artikel minimaal twee links. Een van de twee links mag naar onze homepage worden gelinkt met de anchor tekst "tuinkussens". De andere link mag naar een van onze hoofdcategorieën, met een bijpassende anchortekst.
Maximum vergoeding voor de publisher:
DA score 20-31: € 70,-
DA score 32-40: € 140,-
DA score 40+ : € 175,-
Link

Anchor text / Link title

tuinkussens
Conditions
Common conditions
The article is a permanent placement
The article should have at least 300 words
Contain 2 links
Put a link in the first paragraph
Use at least one image
Other Conditions
Plaats twee links:
1. Anchortekst = tuinkussens
Link = https://www.tuinkussenshop.nl/
2. Anchortekst = afhankelijk van de gekozen hoofdcategorie.
Link = afhankelijk van de gekozen hoofdcategorie.
Channels
Wanted Categories

Shopping
Home & Garden
Hobbies & Interest

Target audience age

35 till 44
65+
18 till 24
55 till 64
45 till 54
25 till 34

Campaign closes

in 2 months

Submitted before date

in 2 months
Apply to join this campaign
Do you want to join this campaign? Log in or sign up and apply straight away!