Briefing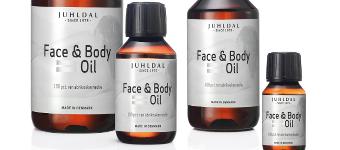 Juhldal: The problem solver line made in Denmark met 40 jaar ervaring in het gebruik van kruidenextracten en natuurlijke koudgeperste oliën in haar- en huidverzorgingsproducten voor het hele gezin. Jorgen Juhldal wilde de kennis en kunde uit de reguliere Geneeskunde en de homeopathie combineren en een brug slaan tussen de twee werelden. Hij werkte daarbij samen met Onderzoekers uit Denemarken, Duitsland en Zwitserland. Hierdoor zijn vele natuurlijke producten met de hoogste kwaliteit en werkzaamheid ontwikkeld en op de markt verschenen.
De Juhldal producten worden geproduceerd in Denemarken en zijn gebaseerd op Jorgen Juhldal's originele receptuur. Voor een optimaal resultaat worden alleen de beste kwaliteit ingrediënten gecombineerd. Al onze producten zijn vrij van parabenen.
De PSO-lijn is gemaakt van de meest werkzame en natuurlijke ingrediënten. Deze zijn zeer effectief bij een droge, jeukende of korstvormende (hoofd)huid. De producten zijn speciaal ontwikkeld om de natuurlijke balans van uw huid en hoofdhuid te herstellen.
Na succesvolle jaren in Denemarken nu eindelijk in Nederland verkrijgbaar!
Alle Juhldal producten zijn:
Vrij van parabenen
Voor jou met probleem huid en/of hoofdhuid
Voor de hele familie, ook babies
Voor degene die graag de huid extra willen verwennen.
Ben jij ook zo enthousiast over Juhldal of wil je de producten graag uitproberen en kun je een mooi artikel over onze producten schrijven? Reageer dan op deze campagne en ontvang bij een samenwerking een mooi productpakket toegestuurd.Let op: reageer alleen als je aan alle voorwaarden voldoet.
Link

Anchor text / Link title

Juhldal
Conditions
Other Conditions
Domain Authority van minimaal: 20
Permanente plaatsing
Delen via social media
Minimaal 1 afbeelding
In iedergeval 2 links
Ten minste 300 woorden
Je hebt meerdere beauty-gerelateerde artikelen op je blog
Channels
Wanted Categories

Health & Fitness
Beauty & Fashion

Target audience age

Between 13 and 65

Campaign closes

a year ago

Submitted before date

a year ago