Briefing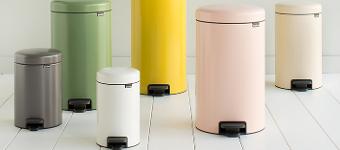 Elke vuilbak hetzelfde? Echt niet! Brabantia heeft een apart ontworpen afvalemmer voor elke kamer, stijl en doel. Pedaalemmer of biobak, retro, strak, afvalbakje voor op het aanrecht of slimme inbouw en natuurlijk de Brabantia Touch Bin. De juiste afvalemmer maakt niet alleen je huis, maar ook je leven een beetje mooier. Dus een paar minuutjes bijlezen op vuilbakgebied is zeker geen weggegooide tijd!
Vuile was? Die houd je stijlvol uit het zicht met Brabantia wasmanden en wasboxen. Kies je favoriet uit onze mooie manden, slimme sorteerders, ruimtebesparende boxen en tactische tassen. Zo wordt de was weer leuk!
Voor Brabantia BE-NL zijn we op zoek naar bloggers die een interessant, niet-commercieel artikel kunnen schrijven. Hierin wordt één van deze twee links verwerkt:
https://www.brabantia.com/be_nl/prullenbak
Link

Anchor text / Link title

Brabantia prullenbak
Conditions
Other Conditions
• Het artikel bevat ten minste 300 woorden
• De link naar Brabantia + 1 interne link (een link naar een artikel van jezelf) en 1 externe link (naar een ander domein. Hieronder valt geen social media kanaal zoals Youtube, Instagram, Twitter, Facebook of Pinterest).
• Blogger heeft nog nooit met Brabantia samengewerkt. Met andere woorden: er staat nog geen link naar Brabantia op de website van de blogger
• Linktekst in overleg, afhankelijk van welke link je kiest
• Het gaat om een permanente plaatsing
• Blog heeft een minimale domein autoriteit van 20
• Linkpizza wordt uitgezet voor het artikel
• Biedingen boven 350 euro worden niet meegenomen/afgewezen
• Blogger kan internationale betalingen ontvangen (en heeft dus een BTW nummer).
Channels
Wanted Categories

Food & Drink
Home & Garden

Campaign closes

10 months ago

Submitted before date

9 months ago