Briefing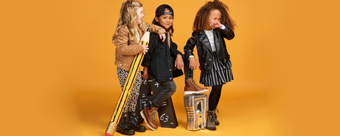 What do we want an influencer to do:
Het is nog hoogzomer, maar voor je het weet begint het nieuwe schooljaar alweer. En bij een nieuw schooljaar horen nieuwe schoenen! Terwijl de kids nog volop genieten van de vakantie, treffen ouders al de eerste voorbereidingen voordat hun kinderen weer de schoolbanken in kruipen. Of je nou op zoek bent naar stoere sneakers voor jongens of coole biker boots voor meisjes, bij Ziengs vind je een uitgebreide schoenencollectie van alleen de beste kwaliteit, zodat jouw kids er lustig op los kunnen rennen, spelen en springen! Op het gebied van kinderschoenen vind je bij Ziengs onderscheidende merken voor de leeftijd vanaf 1 jaar. Graag maken we Ziengs nóg bekender onder alle ouders. Heb jij de juiste doelgroep die je enthousiast kan maken over de kindercollectie van Ziengs? Graag zien wij jouw idee terug in je pitch! Back to school, met nieuwe schoenen van Ziengs!
Let op: Dit is een affiliate campagne, je pitcht met €0,- maar ontvangt een (tijdelijke verhoogde) vergoeding op commissiebasis 8%). Is deze samenwerking succesvol? Wellicht kunnen we dan in een later stadium samenwerken op basis van een barterdeal en/of fixed fee.
Inspiratie voor een samenwerking nodig?
Shoppinglist
Back to school artikel
Instastory
Facebookpost
Artikel over het belang van goede kinderschoenen
Artikel over de nieuwe kinderschoenencollecties
Nieuwe herfstmode