Briefing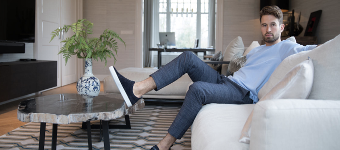 Parbleu is een sneaker start-up. De sneakers worden met de handgemaakt in Portugal en zijn dus van hoge kwaliteit. Ondanks de erg goede kwaliteit en het goede comfort zijn de prijzen van de Parbleu sneakers lager dan die van traditionele 'luxury sneakers'. Parbleu is een luxury sneaker merk, wat zich vertaalt in een iets hogere prijs dan de standaard (Adidas/Nike) sneakers en een hogere kwaliteit. De doelgroep van Parbleu zijn mannen vanaf circa 25 jaar, die zich goed willen kleden. Dit op zowel professioneel gebied als in hun vrije tijd. Parbleu sneakers kunnen gedragen worden door iedereen, ook door mannen met nette kleding (in plaats van de nette klassieke herenschoenen).
What do we want an influencer to do:
We gaan graag de samenwerken met influencers die passen bij ons merk maar ook een doelgroep aanspreken die Parbleu zouden dragen. Graag zien we een toffe post / video waarin het merk wordt aanbevolen, zodat onze bekendheid groeit. Dit is iets wat voor Parbleu lastig is, omdat de sneakermarkt geen makkelijke markt is om toe te treden. In je post / video moet wel een duidelijke call to action staan waarin je je volger aanspoort om tot een aankoop over te gaan.