Briefing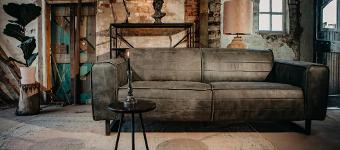 Sinds 2012 ontwikkelt, produceert en verkoopt Station7 een industriële en eigentijdse meubelcollectie. Onze collectie bestaat uit mooie en comfortabele zitmeubelen zoals leren eetkamerstoelen, fauteuils, barkrukken en banken, maar ook uit stoere industriële tafels (salontafels en eettafels), kasten en bijpassende accessoires. De gebruikte materialen zijn leer, metaal en robuust eikenhout. We willen vooral onze naam verbinden aan 'industriële meubels".
Vakmanschap, productkennis en styling gaan binnen ons familiebedrijf hand in hand. Het zitcomfort heeft daarbij altijd de hoogste prioriteit. De stijl is robuust en stoer, met een eigentijdse maar tijdloze wijze van finishing van de materialen. Het Italiaanse leer wordt handmatig gekleurd, waardoor er een luxe vintage uitstraling ontstaat. Vakmanschap is de basis van ons succes. Dit vind je met name terug in het design en in de productie van de collectie, die geheel in eigen regie plaats vindt. De bewerking van de materialen en het handmatig finishen van het leer gebeurt in onze eigen fabriek.
What do we want an influencer to do:
Graag gaan wij de samenwerking aan in de vorm van een blogpost of linkplaatsing in een bestaand, relevant artikel. Schrijf jij regelmatig over inrichting en meubels en voldoet je website aan de gestelde voorwaarden? Dan ontvangen wij graag je pitch. Vermeld daarin of je een blogpost voor ons wilt gaan schrijven of liever alleen een link plaatst.