Briefing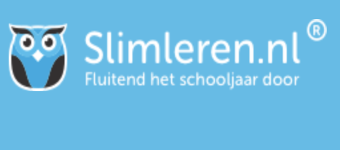 Slimleren.nl is een online oefenprogramma voor leerlingen in groep 5 t/m 8 van de basisschool en klas 1 t/m 3 van de middelbare school. Met Slimleren oefen je op een leuke en leerzame manier de stof die in de les aan bod komt. Leuke spelelementen maken het oefenen met Slimleren leuk en doordat het niveau van de oefeningen wordt aangepast op het niveau van de leerling oefent iedere leerling op zijn/haar eigen niveau. Slimleren is er voor leerlingen die vooruit willen werken, juist wat achterlopen, of die zich gewoon goed willen voorbereiden op de les of op een toets. Zo heb je nooit meer stress voor toetsen, meer zelfvertrouwen in de les en hogere cijfers op je rapport.
Slimleren is nu 1 week gratis uit te proberen: je kunt een gratis test account aanmaken voor je review.
What do we want an influencer to do:
Wij zijn op zoek naar meer online awareness. De google resultaten zijn nu erg mager als je Slimleren googelt, wij willen dat er leuke positieve blogs of reviews tevoorschijn komen als iemand het merk googelt.
Het is voor ons belangrijk dat je doelgroep bestaat uit potentiële gebruikers van Slimleren: ouders van leerlingen van basis en middelbaar onderwijs. Het zou fijn zijn als je een enthousiaste review kunt schrijven zodat . Slimleren bekender wordt en meer mensen een account aan gaan maken.