Briefing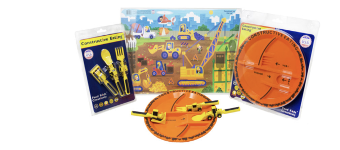 Het merk Constructive Eating staat voor veel etensplezier. Het bestek is zo vormgegeven dat het naast bestek ook letterlijk leuk speelgoed is. Je zou je af kunnen vragen of het bestek is waarmee je kunt spelen of speelgoed waarmee je kunt eten. Dit speelse bestek (plus bord en placemat) zorgt ervoor dat je kind zelf gemotiveerd is om z'n gezonde maaltijd op te eten. Het is dus handig voor de ouder en leuk voor het kind. Het is van hoge kwaliteit en vaat- en magnetronbestendig.
Constructive Eating wordt in de BENELUX door Happy Family Products B.V. als distributeur verhandeld. Consumenten kunnen terecht op happyfamilyproducts.nl en winkeliers die het ook zouden willen verkopen in hun winkel kunnen terecht op happyfamilyproducts.com.
What do we want an influencer to do:
Constructive eating van Happy Family Products wordt op 11/11 gelanceerd in Nederland en Belgie. We willen winkeliers en consumenten hierop attent maken. Winkeliers, om het in de schappen te gaan zetten en consumenten om het alvast te bestellen op happyfamilyproducts.nl i.v.m. sinterklaas en kerst.
Graag zien we dat jij de juiste doelgroep bereikt: consumenten met kinderen of winkeliers. Graag ontvangen we jouw idee voor een succesvolle samenwerking. We willen het liefst zoveel mogelijk sales genereren dus 'kopen' zou de call to action moeten zijn.