Briefing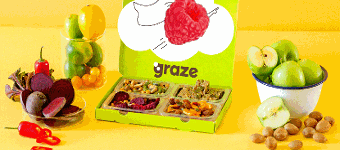 Graze started in 2008 in the UK when they noticed a gap in the market for good healthy snacks. People signed up for a subscription and would get a Graze box filled with four different snacks would be delivered to your home/office. You tell Graze what you like and they select different snacks for you for each box.
Graze launched in The Netherlands in September and is currently offering one box, but will be offering the subscription model from January which is what this campaign will be about.
Find out more here https://nl.graze.com/
What do we want an influencer to do:
Our ideal collaboration is that you demonstrate how Graze fits into your daily life and convey the excitment of getting the box through the mail and all of the delicious snacks inside. Please be aware of the fact that you will be publishing in January and February.
It's important that you include the next keywords: gezonde snacks - voetzame snacks - keuze uit hartig, zoet, proteine, en variatie box - voel je goed snacks, gewoon in je brievenbus